Recently (pre-lockdown of course!), I had the good fortune to accompany our sales account managers to visit a cross-section of our partners, meeting broking staff in branches from London and Manchester to Gloucestershire and Glasgow.
The purpose; to build a detailed understanding of the ways they managed the provision of finance to their customers. Depending on what we heard, we would then offer guidance on what might be done to remove any friction in the customer journey.
We put together the following model, which helped us understand where our partners were performing well and where they had potential challenges: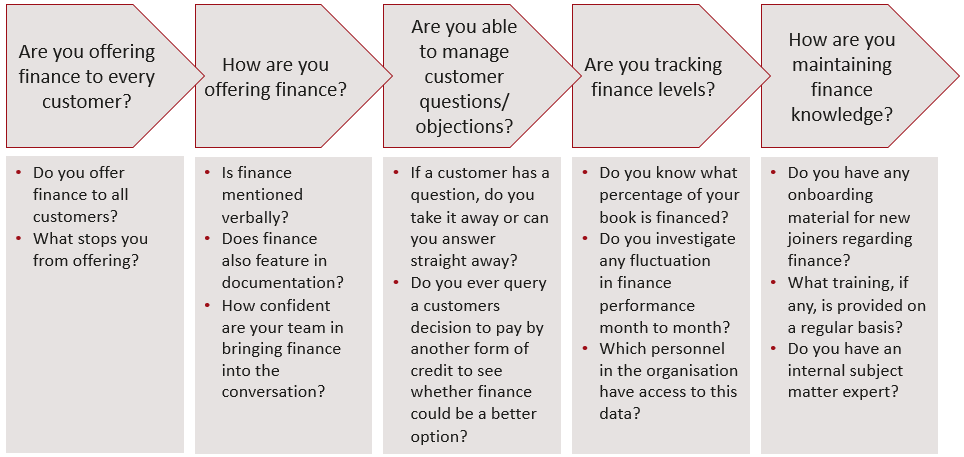 As you can see, it all starts with the offer of finance – when speaking to our partners, most talked of offering to everyone, with a few notable exceptions. For example, where a customer had always paid in full, if they were a high-net worth customer or if a business customer was known to be a 'cash rich' entity, In these instances Account Executives would often steer away from offering finance.
Our response to them then is the same as the one I give to you now. There's always the opportunity for circumstances to change, and the pandemic has compounded the issue. Whether it's a personal lines customer who's looking to get greater control of their finances, a large corporate who are making significant capital investments this year or a tradesman who's flattening their monthly outgoings while they catch up with demand following lockdown, it's always best to ensure they know their options.
Flexible payment options are likely to be a stronger reason for choosing a product or service than ever before – don't allow your assumptions on customer circumstances prevent you from offering that flexibility to your clients.
After all, it's the customer who should be presented the options and will ultimately decide how they want to pay!
Forbes Campbell
Head of Marketing