The third part of our series show cases Christian and Chris' successes in nurturing relationships through enhanced engagement.
Christian Elson, Networks & National Sales Director and Chris Emmanuel, Networks & Strategic Account Manager are a dynamic duo and their passion for cultivating thriving network relationships is palpable. While their approach is refreshingly simple, their long-term plan is clear and comprehensive, it's their tenacity and sheer determination to see their plan through to completion that sets them apart.
"I love Networks, as there is a shared desire to help everyone else improve. The camaraderie you see and feel at Network events is second to none with peers openly sharing ideas, knowledge and best practice to help each other be successful" - Chris Emmanuel, Networks & Strategic Account Manager
Consistency
From the outset, they set the bar very high by committing to invest as much time as needed with every network partner, until they have fully understood the ins and outs of their business; understood their exact business and member's goals and the challenges they face. This lays the groundwork to developing a well-rounded solution that will address both sets of needs.
Understanding
Together, Christian and Chris have a broad spectrum of knowledge and can be relied upon to give pertinent insights and practical recommendations to our network partners and their membership.
Christian has a finance background and has a keen interest in the market, the dynamics within it and the impact it has on the insurance and premium finance industries. Chris has a wealth of insurance knowledge as he began his career as an insurance broker, followed by working for a well-known network and has a deep understanding of its operations as well as the challenges, needs and requirements that the network and its members face. He is also the elected President of the Northampton Chartered Insurance Institute (CII) for the upcoming year.
Openness
The nature of the tripartite relationship that exists between the network, their members and the Premium Credit team is based on openness, honesty and mutual respect and integrity from the outset. This results in an increased level of trust between all parties in a positive work environment that encourages collaboration and problems to be solved proactively.
Multi-tiered relationships
The decision to establish a larger, dedicated team focused on developing and cementing network partner relationships, shows the significant value our leadership place on these strategic alliances. Christian and Chris planned a multi-tiered approach that encourages and manages meaningful interactions at every level within the network's and our organisation's structure; from the executive level, to the operational and account management level, to the Capability and IT departments.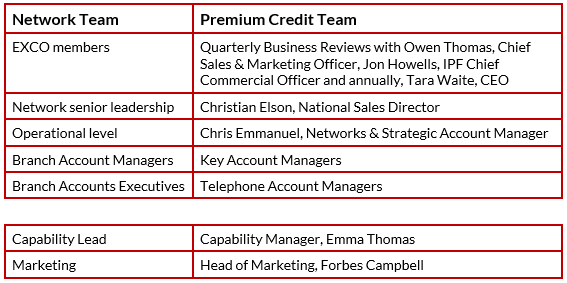 The benefits of this aligned approach are:
message consistency throughout both organisations

easy and quick dissemination of information
"It is in times of difficulty and crisis that relationships really show their worth. Both Christian and Chris, have really shown the value and depth of our relationship throughout this pandemic. Both have been available to support and advise BIBA and more importantly our members, on new and unique situations. Knowing that they care, want to make a positive difference and deliver for us is invaluable." - Nicola Maguire, Head of Commercial, BIBA
Whilst our engagement with network partners are vital, its value would be lost if it didn't result in increased, quality engagement with network members. The best example of the practical culmination resulting from our combined efforts, are the numerous webinars created for network and affiliate members helping them outside of the premium finance journey. These include, but are not limited to, 'The Hardening Markets' series, 'The Market Lens' and 'The view of the market through the insurance premium finance spectrum.'
"Well presented and engaging - went into areas beyond that I was expecting"– BIBA member, Selling in a Hardening Market