New analysis from leading finance company, Premium Credit, which through its Schools Fee Plan (SFP) provides funding to parents enabling them to spread the cost of their children's school fees, reveals that the cost of educating a child today from reception class to their final year of A levels would on average be around £355,516 if they went to a day school.
If children attend a private day school from the age of five to 11 (primary school) and then board when they start secondary school, the corresponding figure would be around £514,594, the analysis found.
However, the data reveals huge regional differences in the total cost of educating a child over their 14 years in school, if they started this academic year in reception. The total cost of sending your child to a day school in London would be £442,285, which is the highest in the country, compared to £142,391 in Northern Ireland, which is the lowest.
For a child attending a private day school from reception to year six (primary school) and then attending a private boarding school, the cost in Greater London would be around £605,568 to £281,231 in Northern Ireland.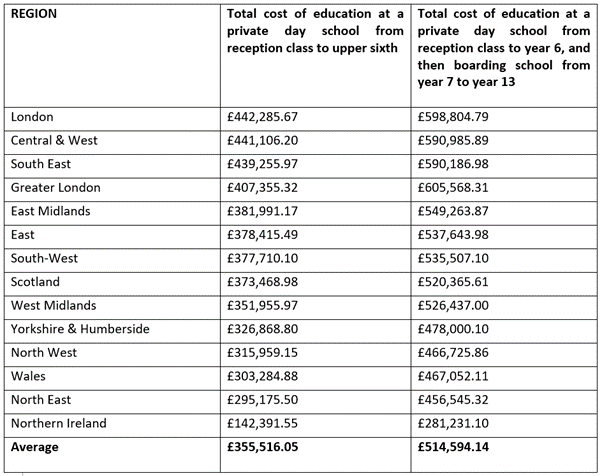 Stewart Ward, Director Education Sector & Head of School Fee Plan, Premium Credit said: "The cost of educating your child privately has never been higher, and fees have been rising by around 4% a year. Parents clearly value the education provided but the cost remains considerable and requires careful planning. If you want to educate your child privately for their entire school life, the amount of money required would be more than enough to buy an average house in the UK** today.
"Parents are increasingly looking to spread the cost of their children's school fees, and we have seen a huge increase in the number taking out our School Fee Plan, which enables them to do this."
The total funds provided through SFP in 2022 was £161.38 million, compared to £142.81 million in 2021. The amount of funding provided through SFP in Q1 2023 is 77% higher than the same period last year.
The number of clients who used SFP in 2022 was 84% higher than in 2021, and the average amount of funding provided was £7,695.
For over 25 years, SFP has helped parents finance their children's independent school fees by allowing them to spread the cost rather than paying a lump sum each term. SFP is the convenient and manageable way for parents to pay for independent school fees and extras such as music tuition and trips. It splits the cost into regular monthly direct debits, like any other household bill.
The process of applying for a SFP for both parents and schools is seamless. Parents apply to open their account online before the beginning of any term. If the application is approved, SFP will notify the parents and the school. SFP sends the full payment to the school at the start of each term.
Notes to editors:
*Based on Premium Credit analysis of data from schoolfeeschecker.com. This included the latest fees for day and boarding schools, and an annual increase of 4%. According to schoolfeeschecker.com, schools fees have been increasing by around 4% since 2016. They increased by 5.1% year on year in September 2022.
** The average house price in the UK is £285,000. view source

For further information please call Phil Anderson at Perception A on 07767 491 519