Our evolving approach
We're a purpose-led company with strong culture, strong values and a demonstrable record of prioritising our customers, partners and colleagues, alongside our investors. Here's what we've been doing over the last twelve months to meet our commitment to being a force for good in society.
Sustainability has become increasingly important to stakeholders, and the requirements in most sectors, including financial services, continue to evolve. For some, ESG is a simple tick box exercise, but for us, it's central to our Purpose and is aligned with our corporate strategy, and the reason why last year we evolved our CSR plan into a structured Sustainability Programme, amalgamating all ESG activities from around the business into one coherent story.
As part of this journey, we also completed a review of our ESG performance against peers, the regulatory agenda, and conducted a risk assessment that highlighted four key steps:
Establish a new 'Sustainability Committee' responsible for ESG priorities, accountable to our Executive Team and reportable to the Board
Review and align our approach to recognised (Sustainability Accounting Standards Board (SASB) & Task Force on Climate-related Financial Disclosures (TCFD) standards
Develop a clear Sustainability Roadmap with key milestones
Enhance our current reporting with refreshed KPIs that are material to our business
We have been making good progress. We have introduced a governance structure for our Sustainability Programme, led by our Strategy, Marketing & Communications Director, that includes the formation of a monthly Sustainability Committee, sponsored by our Chief Financial Officer, and comprised of subject matter experts (SME) from across the business.
We have created an ESG Framework that includes areas of focus for us in 2022, incorporating SASB and TCFD standards and supplemented with other areas that are of particular importance to us, like diversity and inclusion and maintaining our track record of philanthropy.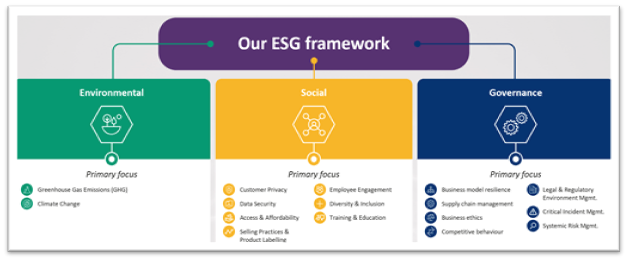 The SMEs have used this framework to combine existing activity, output from our risk assessment, SASB & TCFD standards to develop clear roadmaps with KPIs for Environment, Social and Governance. The team have also included the feedback received from Ecovadis, the globally respected ratings platform, who awarded us an improved Silver Award in January.
The hard work and dedication of our colleagues and our leadership team has ensured we have made strong progress to date, and we'll be sharing updates on this progress throughout the year ahead.